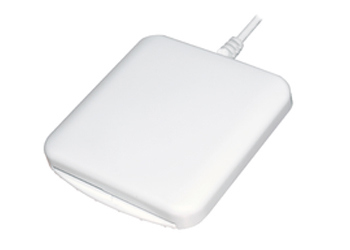 The ACR38 is the most popular card reader in Belgium. The blue version, which became popular when the electronic ID card was introduced in Belgium, has had a white make-over. Known for its reliability, he reader is the ultimate eID reference and will remain at the top a little while longer.
Drivers & apps
In order to be able to use our card readers, you first have to install 2 things, being the eID Software (Middleware) of the government and the drivers of the card reader. Underneath you will find a link to both.

Please note that these are not applications, therefore you won't find any shortcuts after installation. Nevertheless when the installation of both the eID Software and the drivers has been successfully finished, you will be able to use your card reader on dedicated applications and websites.
The eID Software
You need to install this software when you would like to access government applications (My Minfin, Tax-on-web…) using your card reader/identity card.
The drivers
Manual
* Normally the drivers are automatically installed by Windows Update